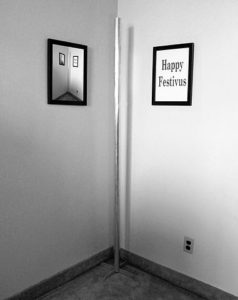 And it came to pass on the 23rd of December in the year of some people's Lord, Nineteen Hundred and Sixty mumble-mumble, in the City of Kansas in the land of Missouri, that a woman, great with child, who was not a virgin because she had been impregnated by her husband (although the child does not like to think about that even now), went to a hospital to give birth.
And so it was, that, on that date, the days were accomplished that she should be delivered. And lo, she had one last cigarette before she was wheeled into the delivery room where she was put under general anesthesia — because that's how babies were born in the Sixties. And she brought forth her firstborn daughter, but she didn't realize she had given birth until she had recovered from sedation and thought, "Ouch."
And she wrapped her daughter in clothes she had purchased from Marshall Field's during a shopping trip to Chicago, reached for her pack of cigarettes, and gave her daughter to the baby nurse so that she could get a good night's sleep. Because breast was not best in the Sixties.
And because the hospital was in the City of Kansas, there were in the area, a scarecrow, a tin man, a lion, a girl named Dorothy and a Wicked Witch, keeping watch over some ruby slippers. (OK, not really, but if you grow up in the City of Kansas, that's what everyone thinks, so let's go with that.)
And, lo, a flying monkey came upon Dorothy and her friends, and they were sore afraid. And the flying monkey said unto them, "Fear not: for, behold, I bring you tidings of marginal interest, which shall be of no importance to all save a few."
"For unto you is born this day in the City of Kansas, a girl, which shall grow into 'Your Mom,' the author of this Festivus Gospel — although she will not actually be anyone's mom for such a long period of time that her parents will complain bitterly that they will be dead before they become grandparents."
"And this shall be a sign unto you; Ye shall find the babe wrapped in clothes from Marshall Field's, lying in bassinet that shall, in years to come, be considered a suffocation danger to newborns. And what with the prenatal cigarettes and martinis, the bottle feeding, the dangerous bedding and no car seats to speak of, thou shalt be amazed that the babe shalt survive to adulthood. But she shall."
And suddenly there was a multitude of flying monkeys, praising the higher power of your choice (or no higher power at all if you're not into higher powers), and saying, "Lo, I bring you tidings of comfort and joy. For from this day forward, thou shalt celebrate the birth of the babe on the 23rd day of December as 'Festivus' and thou shalt perform feats of strength and thou shalt air grievances on that day."
And it came to pass, as the flying monkeys were gone away from them into Oz, Dorothy and her friends said one to another, "Let us now go even unto the City of Kansas and see this thing which is come to pass, which the flying monkeys hath made known unto us."
And they came with haste, and found the parents and the babe. And when they had seen the babe, they made known abroad the saying which was told them by the flying monkeys concerning this child. And they engaged in feats of strength and aired their grievances. And lo, the parents looked at the Tin Man and sayeth, "Thou look like an unadorned pole." And the friends danced around the unadorned Tin Man pole in celebration of his very high strength-to-weight ratio. And there was much rejoicing.
And behold, there also came three wise guys to City of Kansas, saying, "Where is she that is born the inspiration for Festivus? For we are come to say nice things about the babe to her parents even though we really think that all newborns are boring and look squishy. . . . Yep. This one too."
And when the wise guys were come into the house, they saw the babe with her parents, and fell down. Because the wise guys had been drinking. And when they had opened their treasures, they presented unto her gifts of gold and frankincense and myrrh. Only without the gold — the wise guys, being wise guys, just brought frankincense and myrrh. And the babe's parents wondered WTF they were going to do with frankincense and myrrh and why couldn't the wise guys have brought a nice engraved feeding spoon from Tiffany's or offered to pay for diaper service for a year instead?
And, lo, from that day forward until the end of time, the multitudes have gathered each year on the 23rd day of December to perform feats of strength, air grievances and dance around an unadorned pole resembling the Tin Man in honor of the birth of the babe, who has grown into an excellent airer of grievances but a mediocre dancer at best.
So Happy Birthday to me, the First Festivus Miracle. And Happy Festivus to the rest of us.
Wondering what to give Your Mom for her birthday? Follow her on Facebook or Twitter. A little cake would be nice too.