Hippie Colleges of Ohio Tour 2016 (Day 1) Following a red eye flight, Boo and I arrived safely in Pittsburgh at an obscene hour PDT. Within 10 minutes, the word "patriarchy" came out of my daughter's mouth. Just warming up for the main events, I think. BTW: People park like absolute lunatics in Pittsburgh.  Between the lack of sleep and the crazy parking, I felt totally discombobulated.  After braving the lunatic fringe of Pittsburgh parkers, we hit the Warhol museum where I decided that I really need a Warhol "Superstar " name. The current front runner is "Fluorescent Beige" but it's not settled yet. Then we hightailed it across one of the many rivers around here to the campus of Carnegie Mellon (not a hippie college and not in Ohio) for a very crowded campus tour led by students who were remarkable in their normalcy but disappointingly ill-informed about the difference between an Oscar, an Emmy, a Tony and a Golden Globe — no small matter at CMU because CMU arguably has one of the top drama programs in the country. Really, engineering, computer science and drama — a natural combination. Boo has been offered a spot in CMU's summer vocal performance program, so I figured that while we were in the neighborhood, she should have a look. (Her other option is NYU Steinhardt. If anyone has strong opinions about which program she should attend, please weigh in because it's really a case of the Fluorescent leading the blind-with-perfect-pitch here). After a quick caffeine infusion, we were able to get into our room at the Hampton Superfund Inn of Pittsburgh. It's literally built on the former site of a bunch a steel mills. The smoke stacks artfully loom over the Starbucks and PF Chang's. I'm thinking I might actually be fluorescent in the morning.
_____________________
Hippie Colleges of Ohio Tour 2016 (Day 2). I awoke this morning at the Hampton Superfund Inn with no visible signs of fluorescence. But I haven't been near a blacklight all day, so who knows? We drove through snow dusted western Pennsylvania and into Ohio, land of $1.89 gasoline, suicidal birds, and the Rock and Roll Hall of Fame. And hippie colleges. Boo and I spent the afternoon at the R&R HOF which is completely awesome. Borderline close to worth a special trip to Cleveland. Except that you have to go to Cleveland. Boo and I spent some time figuring out some of the artists who we were shocked to discover have been snubbed by the HOF. No Moody Blues, B-52's, Bon Jovi, Billy Preston, Journey, Cars, Lionel Richie/Commodores, Whitney Houston, Neil Diamond (oh wait, Neil Diamond IS in the HOF. So is KISS. Explain that to Jon Bon Jovi). Ridiculously, it took Linda Ronstadt 19 years to be inducted while Van Halen made it in 3. (SMH!). We have now settled in for the evening at the Hampton Inn in Elyria, Ohio, home of a mall, lots of chain restaurants, and many "Notable People" of whom I have never heard. (Arthur Lovett Garford, anyone? He invented the padded bicycle seat!) Tomorrow, we hit Oberlin and the real purpose of this trip begins. I'm figuring out ways to check my privilege as we speak.
_____________________
Hippie Colleges of Ohio Tour 2016 (Day 3) — Boo and I finally made it to the Mecca of Ohio hippie colleges — Oberlin College. We performed the usual rituals (throwing stones at a statue of Dick Cheney, circling a "Sanders for President" sign seven times, dressing in organic vegan garments, determining which gendered or agendered pronouns to use when referring to others, etc.). Unfortunately, the weather goddess did not look down on us favorably. It was 32 degrees and lightly raining all day — which seemed effing freezing to us spoiled Californians. Boo did a couple of lessons at the conservatory, then we went on a tour of the college. Our guide described herself as having attended a tiny hippie school in D.C. It turned out she was an amateur when it came to tiny hippie schools. It had three times as many kids as Boo's high school, and Boo's high school is in Berkeley. There's no way she could top that. The highlight of the tour was a lengthy discussion of how dormitory bathrooms are gendered or not gendered or whatever. But we were assured that group showers were not part of the program — unless, of course, that's your thing. Whatever. It's totally cool.
_____________________
Hippie Colleges of Ohio Tour 2016 (Day 4) — I write tonight from the Overlook Hotel of Central Ohio. It's a nearly empty large resort in the middle of nowhere. I suspect that in season, the location is lovely, but now, in the off season, I expect to see creepy little twins saying "REDRUM" every time I step into the hall. We began the day by returning to Mecca for a visit to the Oberlin Conservatory. Boo visibly surprised the receptionist by not being a boy.  (Her real name is more commonly a boy's name.)  We had a "group" meeting (us plus one other student and her mom) with one of the associate directors of admission for the conservatory. I'll give him credit for being honest, but he basically said to Boo, "You're a soprano? Good luck with that." Awesome. Good thing Boo doesn't have her heart set on the Oberlin Conservatory. After a quick tour, we hopped into the car and drove through the farmlands and small towns of Central Ohio. I kept thinking of "Our Town" and half expected to see the ghost of Emily Webb in the cemeteries we passed. We saw an Amish horse and buggy on the road.  Also lots of "Trump for President" signs.  I managed to only gag a little.  (I had to keep it together. I was driving, after all.)  We then checked into the Ohio Overlook, had some pizza, and watched the topiary walk around.  If I don't post tomorrow, it's probably because Jack Nicholson has murdered me.
_________________________
Hippie Colleges of Ohio Tour 2016 (Day 5) — So we were not murdered in our beds at the Ohio Overlook Hotel. Today, we drove deeper into rural Central Ohio. No Trump signs in sight, but lots and lots of buggies and even a mule team. And horrible roads. Portions unpaved. The Amish clearly don't complain enough. We finally arrived in the tiny, cute and remote town of Granville, home of Denison University. Denison is probably more preppy than hippie, but it was by far the friendliest campus we've visited anywhere, and I think a hippie could be happy there. They do a superb job of selling the school, starting with excellent labeling of the directions to the admissions office.  Boo and I both walked away very impressed. Then back on the crappy roads to the Overlook — this time in a rainstorm. No time for more. Someone is at the door.  He says his name is Johnny.
______________________________
Hippie Colleges of Ohio Tour 2016 (Final Day) — I'm pleased to say that we survived our last night at the Overlook. This morning we partially retraced our route along the unpaved Amish roads to Kenyon College. Forget what I said yesterday about Granville being tiny and remote. Granville looks like Times Square next to Gambier, Ohio, home of Kenyon. We started the morning with a tour of the college where they separated the kids into one group and the parents into another. Our tour was pretty standard, but I kept imagining what was going on on the kids' tour. "Is it hard to get a fake ID?" "Are there orgies?" "Can I major in hip hop?" At the end of the tour, we reunited for the world's worst information session. Boring and hard to hear. Made all the more intolerable when we were joined half way through by a mother and her sullen, sapphire-haired daughter. The mother proceeded to ask approximately 40 questions very specific to her daughter (including the inevitable bathroom gender question ) while the mortified daughter alternately rolled her eyes and hid her face in her hands. Boo then had an interview with a senior who was an admissions office "fellow" where Boo either assured her admission or completely killed her chances. The interviewer asked Boo what her spirit animal would be.  Hilariously, Boo responded by saying that that her spirit animal was a sloth.  Best. Answer. Ever.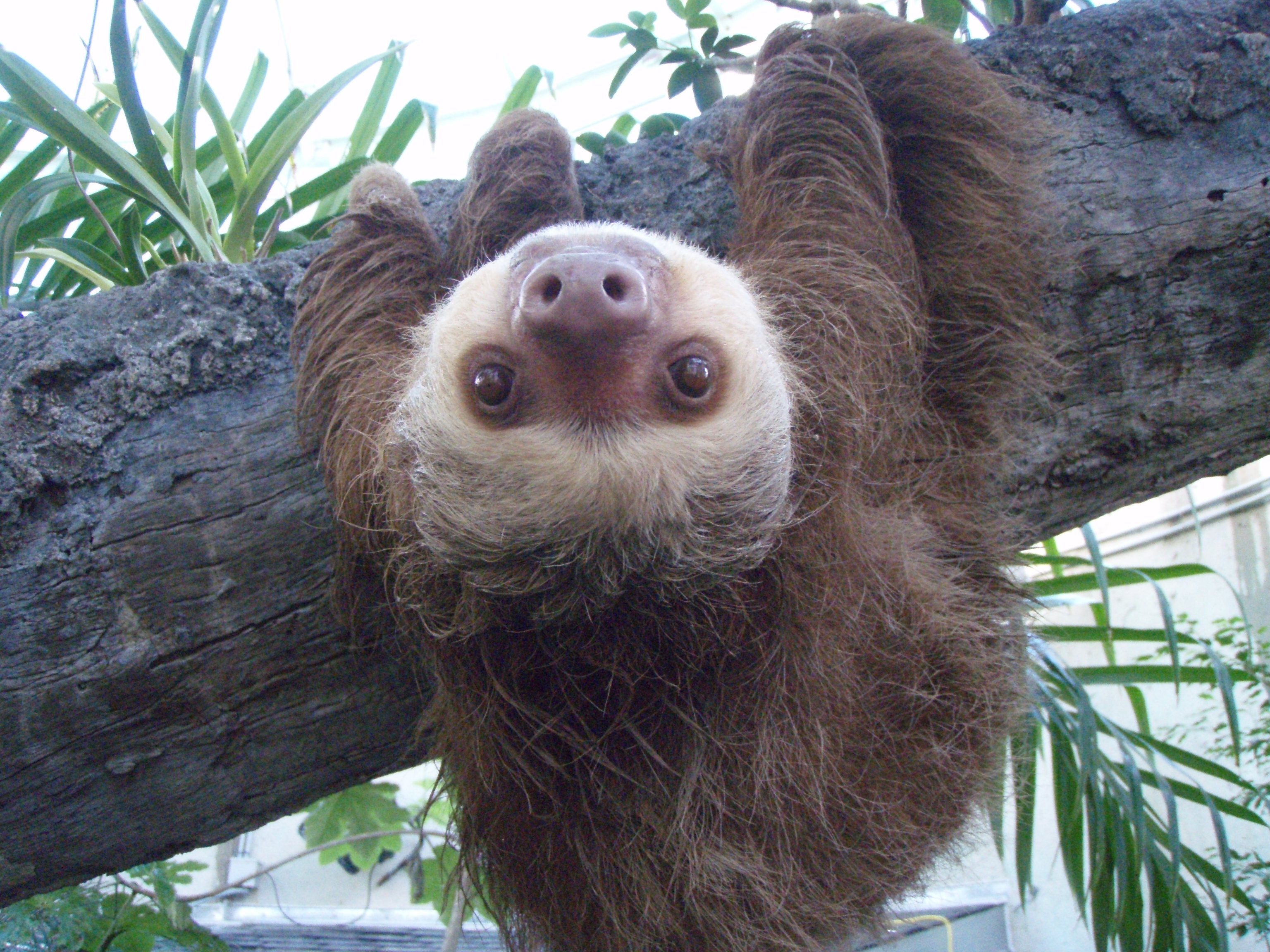 (Boo's spirit animal)
I'm guessing no one has ever responded that way in any interview anywhere before. (She went on to explain that she's laid-back and deliberate but still.). It totally cracked me up. At least she'll be memorable. And so ends this tour. Very early tomorrow we fly back home. But stay tuned, the Hippie Colleges of the Northwest Tour 2016 is coming soon.
Next — The Hippie Colleges of the Pacific Northwest
Follow me on Facebook