Hippie Colleges of the Northeast Tour 2015 (Day 1) — Today we embarked on our quest to find Boo the college of her dreams.   So what is the college of her dreams?  Probably something small(ish), liberal arts with strong music and theater options, possibly a conservatory or joint degree program.  Must have lots of hippies, be LGBTQ-friendly, and the more protests, the better.  (I'm saving up for bail money while I save up for college.)  Our first stop was Bard College.  Bard is #2 on the Princeton Review's list of colleges for Birkenstock-wearing, tree-hugging vegetarians, which is perfect for Boo except for the Birkenstock part.  (She's a girl who loves her high heels.) Also, not so much the vegetarian part either.  (She likes her bacon.) But tree-hugging is awesome.  Anyway, Bard's campus is way the hell out in the middle of nowhere, but it is lovely.  Bard has the strangest placement of a campus building I have ever seen.  They have a gorgeous Frank Gehry designed performing arts center plopped down in a pasture.  It's like the Bilbao Guggenheim got caught in the Twilight Zone and transported to a field in upstate New York.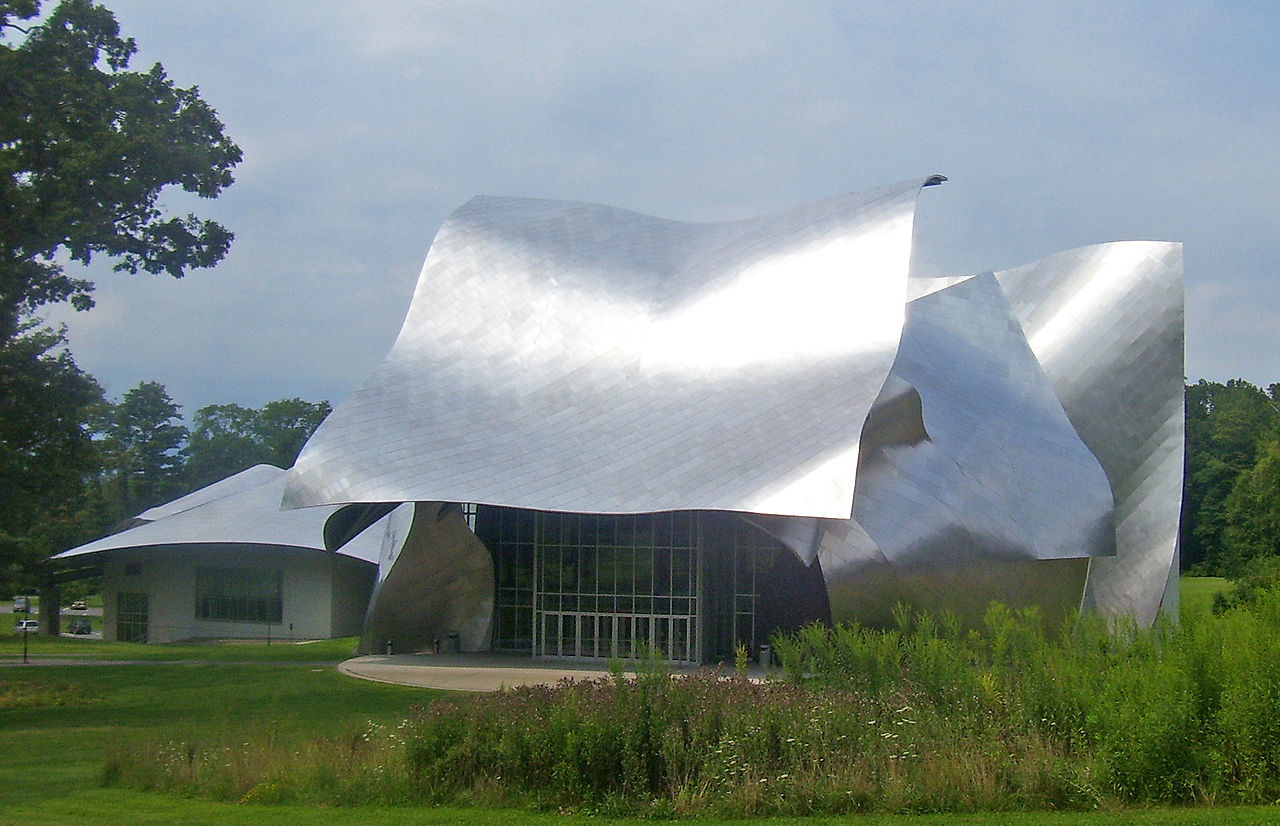 (There should be cows in the picture.)
Anyway, Boo really liked Bard, and but for the fact that it's in the middle of nowhere, it would likely be a good fit.  So Bard stays on the list.
In the afternoon, we backtracked to Vassar, the only extant college of the former seven sisters that is co-ed.  Thanks to a merger with Harvard, one sister is dead.  It figures that it would be Harvard that would kill its sister.  (RIP Radcliffe.)  Vassar is definitely less isolated than Bard.   It has a beautiful library that looks like something out of Hogwarts.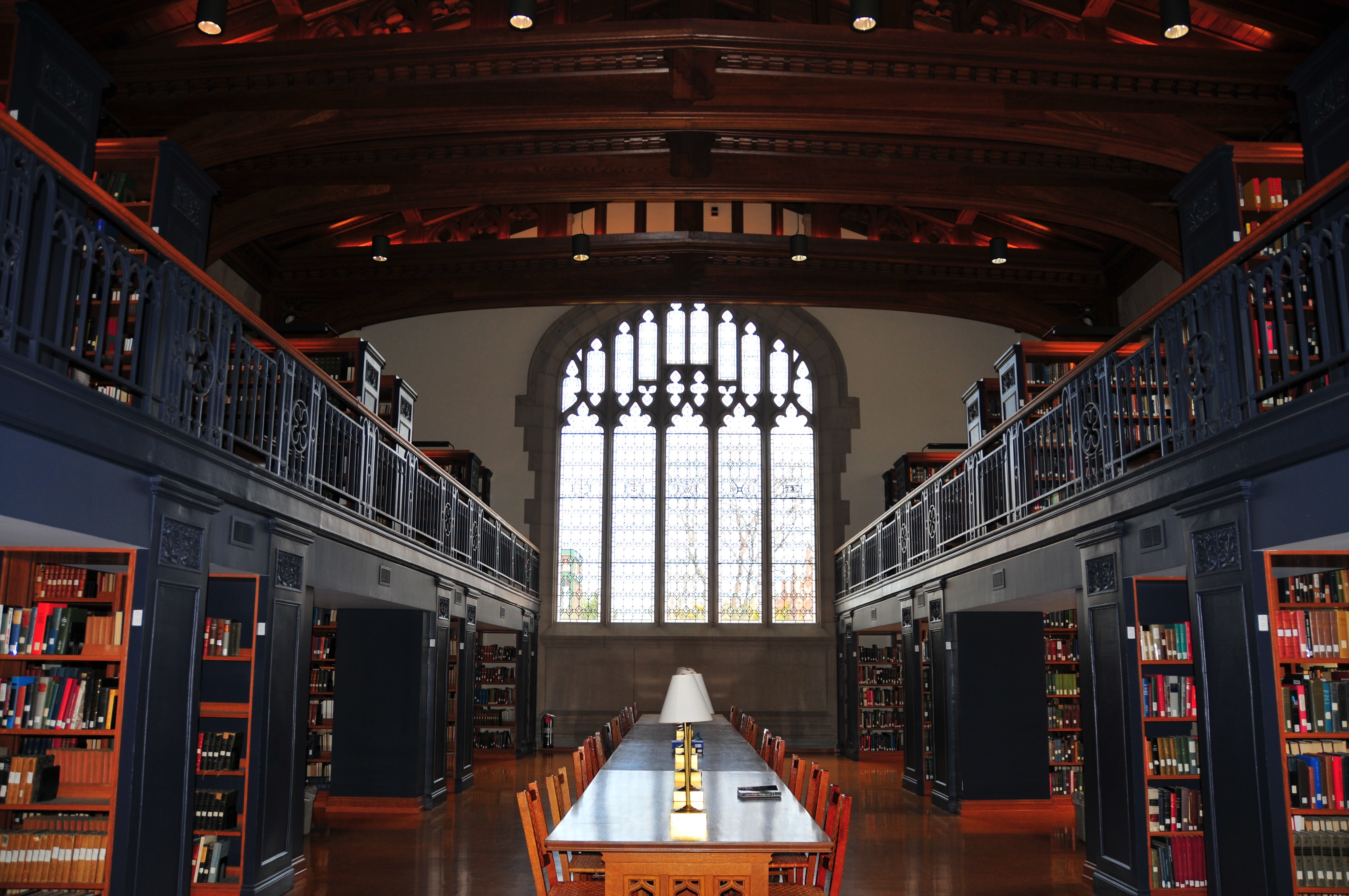 (Where's Hermione?)
Plus, they allegedly have really great theater options.  I thought Boo would love Vassar.  She liked it fine, but not as much as Bard.  Perhaps because Vassar is only #8 on the Princeton Review tree-huggers list.  So Vassar is on the bubble.
________________________
Hippie Colleges of the Northeast Tour 2015 (Day 2) — We arrived late yesterday in Saratoga Springs, home of Skidmore College.  First, I have to say that I heart me some Saratoga Springs.  I had never been there before, but it is about as adorable as it can be.  Like our hometown, Saratoga Springs was built as a resort for city dwellers and while our hometown has its charming Victorians, SS has massive Victorian mansions everywhere.  (In other words, SS was way, way swankier in its heyday than our town.)   Nowadays, however, the cost of a charmless condo in our town will buy you one of those Victorian mansions in SS.  The times, they have changed.  Boo once again had a different reaction to Skidmore than I expected.  I loved it.  She was meh — even though Skidmore is #4 on the tree-huggers list.  Go figure.  So it looks like I will not have an excuse for selling my house and acquiring a mansion in Saratoga Springs.  Wah!
This afternoon was a different story.  We crossed into Vermont to visit Bennington College, alma mater of Tyrion Lannister.  Who would have thought that Tyrion was educated in the bucolic environs of Nowheresville, Vermont?  It must have been quite a change from King's Landing.  Anyway, Bennington (#3 on the tree-huggers list) was a hit.  For such a tiny school, it has fabulous theater facilities, and it has a groovy design-your-own-major curriculum.  The downside is that it is tiny.  I mean tiny.  I told Boo that if she goes to Bennington, she is not allowed to have a bad breakup because there will be no avoiding that person.  And it's in the middle of nowhere.  But it would be fabulous if Boo wants to be deeply involved in theater.  Plus, it's full of hippies. So Boo loved it.
_________________________________
Hippie Colleges of the Northeast Tour 2015 (Day 3) — This morning we visited Hampshire College.  Our visit did not get off to a good start because they have the world's worst signage when it comes to locating the admissions office.  We drove in a circle for 20 mins. I figured they were trying to play some sort of head game with us because the sign allegedly pointing towards the admissions office turned out to point away from the admissions office.   Maybe they meant this as some sort of weird metaphor.  ("If you closely follow signs then you are a conforming tool.  If you go where the signs tell you not to go, you will end up where you need to be.")  I finally had to call the office to ask them where they were.  Surprisingly, Hampshire does not make the tree-hugging list.  My theory is that Hampshire is so far beyond "hippie" that it doesn't even qualify as hippie.   They have a yurt.  No really, a yurt.  The Hampshire crowd made the Bard and Bennington hippies look like a bunch of stuffed shirt investment bankers. It was WAY too much for me, and even too much for Boo.  But IF Boo ends up at Hampshire, I will be running a "design Boo's first tattoo" contest.
We followed up our morning at Hampshire with visits to Mt. Holyoke and Smith — which were pretty much indistinguishable in my eyes except that you can apparently get credit for dog walking at Holyoke (which is particularly impressive because that's something they don't even offer at Brown).  Boo liked Holyoke better.  It might have been the dog walking.  We finished our day with a drive to Cambridge and a walk around the periphery of MIT — which is likely as close as Boo is ever going to get to attending MIT given that I am the person called for "tech help" at our house, and my version of "tech help" is disconnecting the machine from its power source and then plugging it back in.

Tomorrow we will take a brief break from visiting colleges for a morning walk through American history along the Freedom Trail in Boston followed by an afternoon walk through my personal history when we visit my alma mater, Brown University.  I'll be stocking up on cheap liquor just to make the experience a more realistic representation of my past.
_______________________________
Day 4 of College Tour 2015 — This morning we took a break from looking at colleges to explore a little American history. We took a guided Freedom Trail walk through Boston. Boo spent much of the walk muttering under her breath about how the guide was oversimplifying things. Like a guy in a costume with a tri-cornered hat, knee breeches and buckled shoes is going to get into the subtleties of the philosophies of the various Sons of Liberty.
Then we spent some time at the Kennedy Library where Boo asked me what I had thought of JFK when he was in office. I told her that my opinion of him at the time was somewhat unformed given that I had not yet celebrated my 2nd birthday when he was killed. But I'm sure that whatever my opinion was at the time, it was oversimplified.
We ended the day with a visit to my alma mater, Brown University, where I gave Boo a tour. So now she knows what it would be like to go to Brown — in 1984. Which was awesome! So now she's ready to go to Brown circa 1984. Which might be an issue, but I think that if she is able to invent a time travel machine, it will improve her chances of being admitted to Brown. No guarantees of course — because these days Brown has many excellent applicants who undoubtedly have done things far more impressive than inventing a working time machine.
_____________________________
Day 5 of College Tour 2015 — Psych! No colleges today! Instead, we got up early and drove from Providence to New York. Boo slept all the way across Connecticut. I can't blame her. Connecticut from I-95 is kinda boring. I had to stop halfway across the state for a caffeine infusion or I might have fallen asleep too. I also had a Dunkin' Donut — which definitely did NOT live up to my memories. I guess over the years I've become a donut snob — a title I will wear with a mixture of pride and horror.
We dropped the car off at JFK and raced into Manhattan in time for the matinee of "Fun Home." Awesome show made even more memorable by the fact that one of the children is played by another student of Boo's voice teacher.  So we got to meet some of the cast after the show.  Fun indeed.
_____________________________
Day 6 of College Tour 2015 — our last college visit of this trip.  We took a half hour train ride from Manhattan to Sarah Lawrence College — the #1 college on the tree-huggers list.  SLC is to arts dropouts what Harvard is to tech dropouts.  Seriously, SLC has the most impressive list of dropouts.  (Carrie Fisher, Kyra Sedgewick, Sigourney Weaver, Tea Leoni, Carly Simon, plus both Yoko Ono and Linda McCartney.)  Fortunately, there are also some very successful people who have managed to graduate.  (JJ Abrams, Barbara Walters, Vera Wang, Alice Walker, Julianna Margulies, etc.)  Boo loved this place.  I saw her starting to fall when she was told about the annual screening of her favorite movie, "The Princess Bride" (starring SLC dropout, Cary Elwes) on the college lawn with everyone reciting the lines and the annual Halloween enactments of "Rocky Horror." Then she was told about the tiny classes and the mandatory close work with professors (you have to meet with them one on one every 2 weeks for most classes). There are no distribution requirements and no majors or letter grades. There's tons of theater and music and other arts on campus, and Manhattan is only a half hour away. Great study abroad programs. Beautiful campus near a cute town. And there's a swing set right outside the main administration building. Plus, the unofficial slogan is "Queer by New Year."  She was sold.
It may turn out that this is just infatuation but at the moment she's in love — with the most expensive college in the country. Figures.
Next — The Hippie Colleges of Ohio
Follow me on Facebook